Fall is here and our pumpkins did really good this year! We saved seeds from a pumpkin bought for the granddaughter last year at Halloween. It was white and labeled as a Cinderella pumpkin variety.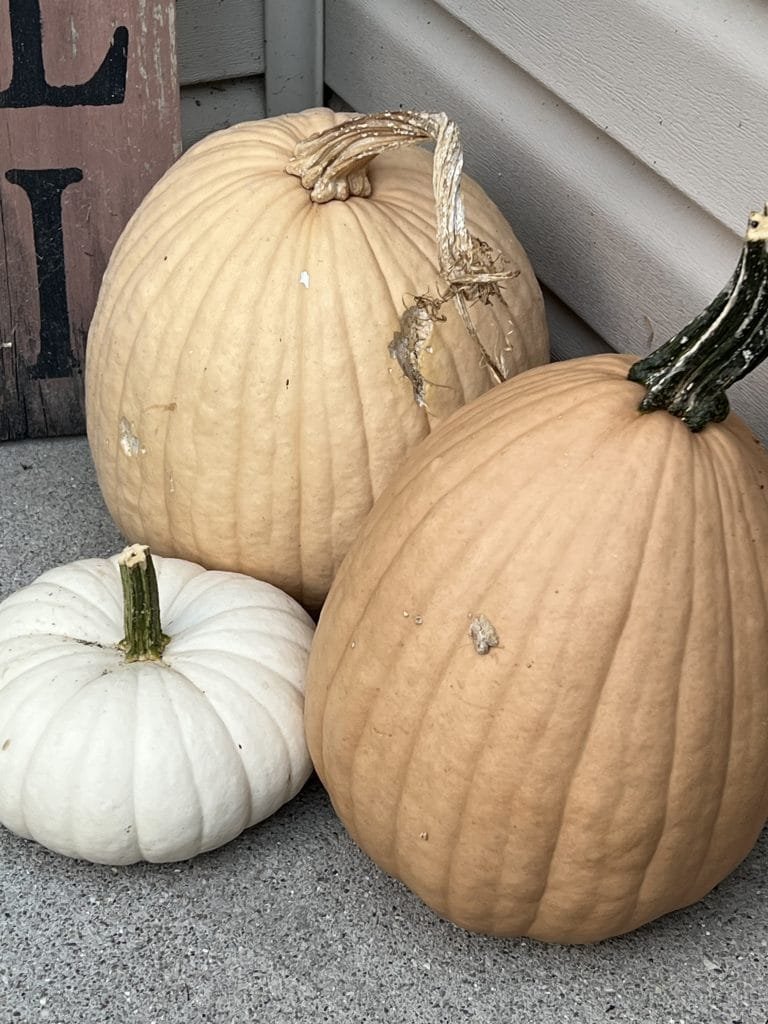 Aren't these a cool colored pumpkin? It's hard to believe that all 3 of these pumpkins came from the same pumpkin that we saved the seeds from. This is a true representation of the parent plants that were bred together to make the Cinderella hybrid pumpkin we started with. It must have been a big pinkish pumpkin bread to a small white pumpkin to get the cross they sold at the farm market. We are looking forward to saving the seeds from these pink pumpkins to grow in the 2024 season. So excited to see what comes of it when we harvest next year.
Here is what some of the lighter ones look like compared to the sugar pie pumpkins we grow every year. The biggest one below has turned more pink since I sat it out on the porch for fall decorations.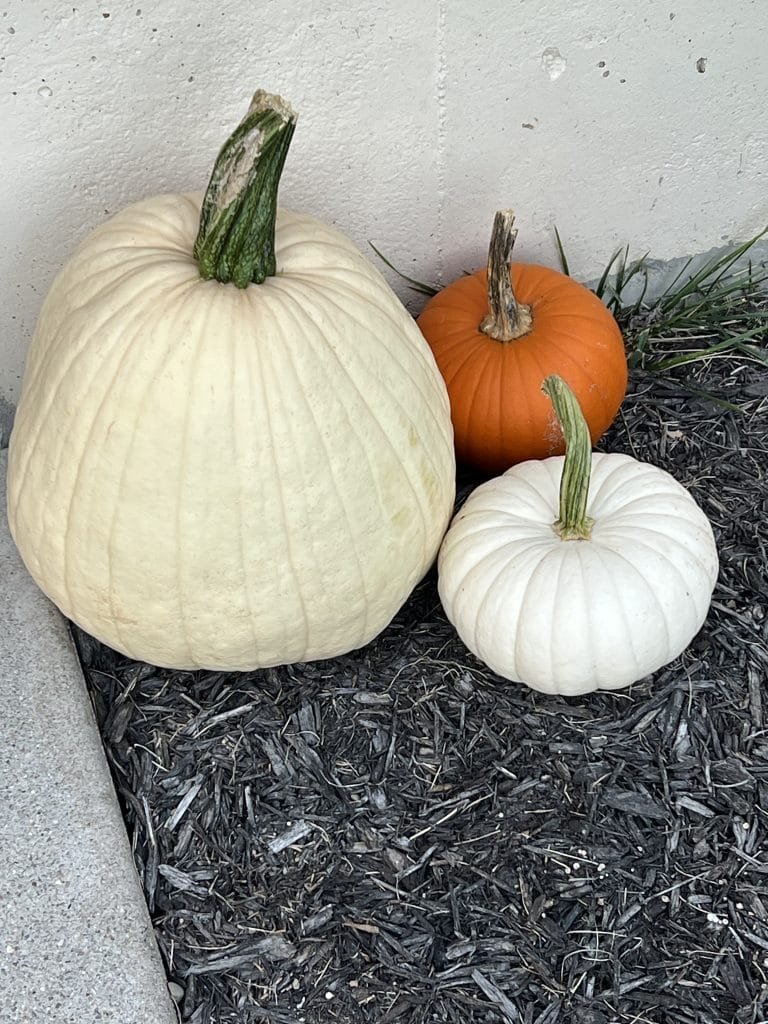 These pumpkin seeds are marketed as Cinderella Coach pumpkins, but they don't look like the white pumpkin we saved seeds from in 2022.
Here are some other cool pumpkin seeds we found on Amazon:
What do we do with Pumpkins?
At Wild Heaven Farms, we use pumpkins for a variety of things. The main one, or most important one is that we save the pumpkin puree to make pumpkin pies for the holidays. We also use it to make the pumpkin cookies found here with these other Holiday cookies.
Whatever pumpkins are left after we get all we need for the freezer, we use for chicken food. Pumpkins last a long time in an unheated, sheltered area next to the house. We keep them in the barn and also in the garage. They sometimes last until into January.
We know that some people just pile them whole into the chicken coop and let the chickens eat at them as they wish. These have a tendency to freeze and thaw several times making the outside of the pumpkins a softer consistency.
We have done it both ways and like to hand them out to the chickens halved and not frozen. This gives the chickens a fresh vegetable grown right here on the farm for quite a time period into the winter months.
Pumkins are the only vegetable that the ground hogs didn't eat this year. Last year, we had problems with the deer and in 2023 it is the ground hogs. We just noticed they are taking up residence in the barn so we will have to address that issue fast.
Pumpkin Decorations
Check out the pumpkin we saw on Facebook. It is decorated with pressed leaves and flowers. Isn't it just lovely? Having grown white pumpkins this year makes us wish we had some pressed flowers and dried leaves to use on them. Can you imagine how beautiful this would be on those lighter colored pumpkins? This is going on the list of things to do next year when we come across a beautiful patch of wild flowers or interesting leaves.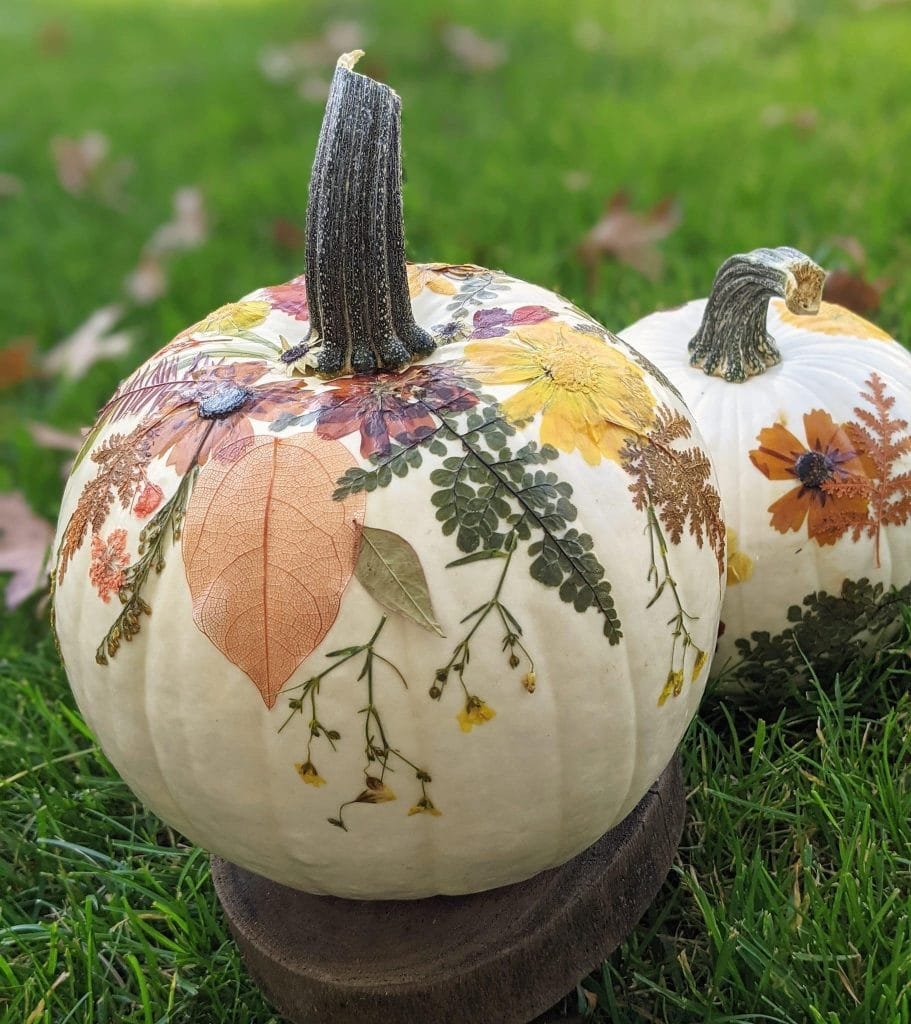 What is Your Favorite Colored Pumpkin?
Let us know in the comments which color pumpkin is your favorite?