Look no further than this recipe if you are looking for a fluffy chicken and dumplings recipe. You are going to love everything about this recipe. It is so simple and made from ingredients most households will have in their pantry and refrigerator.
I have a group on Facebook called Appalachian Cooks and it would seem that every day someone asks for a fluffy chicken and dumplings recipe.
It turns out that dumplings are a controversial topic among the cooks with the divide being over fluffy dumplings or flat, noodle type dumplings.
Personally, we love the fluffy chickens and dumplings and would just make chicken and noodles if I wanted that kind of texture instead of a dumpling.
I have had complete batches of dumplings fall apart while cooking and just make the whole pot mushy, like a really lumpy gravy. That is never good! I have since learned the secret to getting really big, fat and fluffy dumplings like the ones in the featured photo here.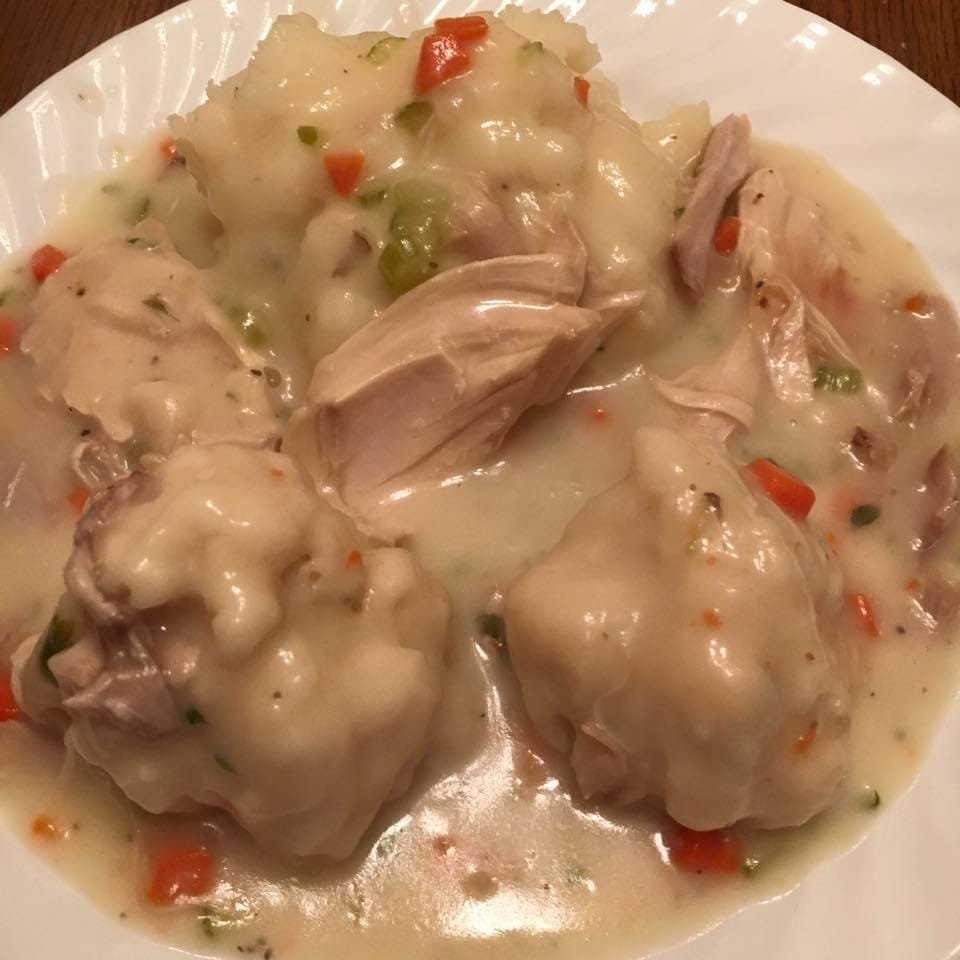 What's not to love about these dumplings? Three of these big dumplings is almost too much for one person, but somehow I managed.
Fluffy Chicken and Dumplings- What's the Secret?
The secret to making the best fluffy chicken and dumplings is so simple. I think that whatever recipe you choose to use for making chicken and dumplings will benefit from this little tip.
Leave the lid on without peeking!
Here is the Chicken and Dumplings Recipe I used
For the chicken:
Any kind of bone-in chicken will work for this recipe (you can even cheat with a grocery store rotisserie and chicken broth if you are short on time)
a couple pieces of celery (more add more flavor)
2 large carrots
1 onion
2 TBSP dried parsley or 1/2 cup freshly chopped
2 tsp salt
1 tsp black pepper
water to cover ingredients in cooking pan
butter/olive oil to brown veggies
For the Fluffy Dumplings
2 cups flour
4 tsp baking powder
1 tsp salt
3/4 cup milk
4 TBSP olive oil (or whatever oil you have on hand)
Let's Get Started!
In a large dutch oven or other large cooking vessel with a heavy, tight fitting lid start by cooking the chopped celery and onions in olive oil, butter, or a mixture of the two. Once you get it going good, add the pieces of chicken you are going to use so they can brown a little. We don't need it to cook, just make some nice brown bits for coloring the broth.
Once the chicken is browned…
Once you get some color on the chicken, go ahead and cover it with a good amount of water, as it will cook off while the chicken cooks.
Add the rest of the ingredients for the chicken to the pot including the sliced carrots. Continue to cook until the chicken is done and falling off the bone.
Remove the chicken and allow it to cool enough to separate the meat from the bones. I generally mix my ingredients for the dumplings during this time.
Make the dumpling dough…
I mix the flour, baking soda, salt in a medium bowl. Then I add the 4 TBSP of oil, usually olive oil, to the dough and mix it like you would butter in the flour for biscuits. Just put the oil in the dry mix and get your hands in it to make it all the same consistency. Next, you add the milk. This can be done with a spoon if you don't want to get your hands all sticky. Just mix it up until it is all wet and sit it aside until you are ready to drop them in.
Turn the heat back on on the pan you originally cooked the chicken in. You should have the chicken separated into pieces and carefully checked to be sure there are no bones left in it. (If you have lots of liquid you can add flour to the chicken before dropping it back into the boiling broth) If you have 2 quarts or so of broth in the pan, the dumplings will thicken them up without any added flour. It's just one of those things that depends on how thick you like the gravy part of this dish.
Add the chicken back in and once it comes back to a boil, start dropping in your dumpling dough. I use an ice cream scoop to get these great big dumplings but you will only get 6 fluffy dumplings from this recipe. They can be dropped by a big spoon just keep in mind how many dumplings you need to serve to your family so someone doesn't come up short.
Once they are all in the pan (It should be boiling at this point) Add the lid and turn down the hit to a low simmer. Now, the hardest part about making these fluffy chicken and dumplings, WALK AWAY! DO NOT, I repeat, do not, open the lid for any reason. Everything will be fine, trust me. It might spew and sputter, but it will all be fine in the end. Give it at least 20 minutes, no matter how big they are. I just turn my great big ones off at the 20 minute mark and let them sit another 5-7 minutes with the lid on to make sure they are cooked all the way through.
If you open the lid, your fluffy dumplings will fall flat and you want these big showstoppers!
Fluffy Chicken and Dumplings for Everyone!
After you have made these a few times, you will feel like a pro at making them. Your family will ask for them regularly! I hope you become as confident in making these fluffy chicken and dumplings as I am. I have faith in you! Give it a try and let us know how you and your family liked them.
Check out my other articles