So here are the most comfortable chairs on the market right now as far as camping chairs go.
Benefits of these Coleman Camping Chairs
*Please be aware that these chairs weigh 12 pounds each. They are great for us because we generally use them right beside our motor-home or on a fishing bank where we park close by.
Durable steel construction
Holds 300 pounds for extended periods and heavy use
They breath. Heavy mesh backs allows the breeze to flow.
Flexible Bungee Suspensions System – It feels like shocks to me
A comfortable 19.5″ seat height
NO CIRCULATION CUT-OFFS with these chairs on backs of your legs
The drink holder is self storing! It also has a slot for a coffee cup!!
It has a slot for coffee and a coffee cup will not spill in your lap when you sit down.
It comes with a bag to carry it in.
Coleman is a name you know and trust
Coleman ComfortSmart Suspension Camping Chair
Our personal story with these chairs…
We were in Pigeon Forge over the last Christmas Season and needed to kill some time before the buffet we wanted to eat at opened. We came across a Coleman Camping Supply Outlet Store so we thought, why not?
Once inside, we wound our way through the store looking at endless supplies of camping equipment. I decided it was time to take a break in the "camping chair" section.
I landed in this luxurious chair from Coleman and knew we had to have a couple for our motor-home adventures. We couldn't haul them home if we bought them now because we were in my new little gas-getter car and had enough luggage to last us 2 weeks and our cooler.
As soon as we got home from our adventure in Tennessee we sat down and looked up the chairs we had seen so that we could order them. Now that the weather is nice, I'm so glad that we have these comfortable chairs to use while camping, fishing and more!
I've already recommended them to several people so I thought I would go ahead and share with you too!
Here we are at Cowan Lake fishing with our chairs. I could sit here all day!

Below, we are fishing at Adams Lake State Park in their small 47 acre lake. We had lots of fun Walking their Prairie trails and caught lots of 7 inch bluegill in the lake.
You can see that I have the bag strapped on to the back of the chair because the wind was blowing pretty good here.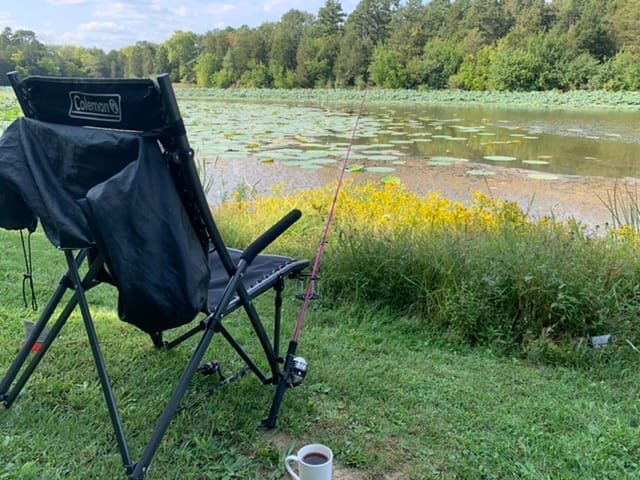 See More of Our Adventures on YouTube