This recipe is for a homemade hot sauce that will quickly become one your favorite condiments. Some people consider it a Frank's copycat recipe.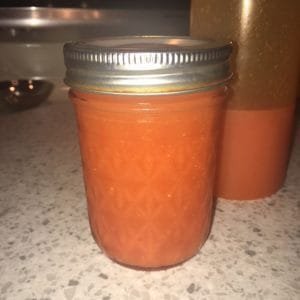 It's made with cayenne peppers, garlic, and vinegar. Some people add salt to it but at Wild Heaven Farms, we try to eat a low sodium diet so I just omit it. I will include it in the recipe for those who want to add it.
I will also give several ways to use this hot sauce in chicken wings, as it is one of our favorite meals around here.
Here is what you will need:
12-18 bright red cayenne peppers
2 cups of white vinegar
3-5 cloves of garlic
1/2 teaspoon kosher or sea salt (I never use it)
gloves! (I always use them)
This is one of the easiest recipes to make, all you do is cut the tops off the cayenne peppers (PLEASE please, wear gloves or you will regret it! If you don't have gloves available and just can't wait, use some olive or other vegetable oil on your hands to protect them from the oils of the hot peppers)
Now, chop up the garlic a bit, not too much, just enough to release the flavors. add the cayenne peppers, garlic and salt (if using) to the vinegar and bring to a low-boil and then simmer for 15-30 minutes.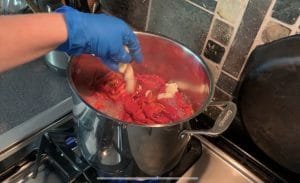 Next, either put the hot liquid with peppers and garlic into your blender or like me, use a stick blender like this one:
 BELLA Hand Immersion Blender with Whisk Attachment– WOW it's under $20
That is a great deal on a stick blender! I paid over $30 dollars for mine but it was a few years ago. If you don't have one, consider buying this one from Amazon and I might make a few cents from telling you about it. (It all adds up over time)
Back to the Hot Sauce Recipe
Ok, back to the hot sauce recipe- once you get it all blended up, strain it through a mesh strainer and allow it to cool before putting it in your jars.  It will last forever in the refrigerator just like this but if like me, you've made a double or triple batch of this Frank's copycat recipe, you will want to make it shelf stable by canning it.
If you are like me, and made a double or triple batch of this hot sauce, you will want to process it in a Water-bath canner for 10 minutes to make it safe for storing on your pantry shelf until you want to use it.
I recently started adding videos to YouTube so that I can share them with all of you. As soon as I get the video of how to make hot sauce, I will add it right here at the bottom of the page.
Now, on to the chicken wing sauce recipes- YUM! When I first started making this cayenne pepper hot sauce, I used about 3 tablespoons of melted butter and 3 tablespoons of the hot sauce mixed together to make a wing sauce. This is good but just doesn't have that stick-a-bility that I like in a sauce. What I do now is mix the hot sauce with my favorite barbecue sauce in equal parts.
I buy the big bags of frozen chicken wings because we eat them so often that I can't raise enough chickens to cover this meal. The frozen wings makes it easy to just grab the amount needed and cook them in the oven for about 50 minutes before pouring off the broth and grease and adding my sauce and allowing them to cook another 12-15 minutes. It couldn't be any easier than that!
Up next is a recipe for my famous (in my mind) twice baked potatoes that makes a great addition to chicken wings! I'll link it here once I get it done but in the meantime, I'll leave you with this picture of the last time I made this meal!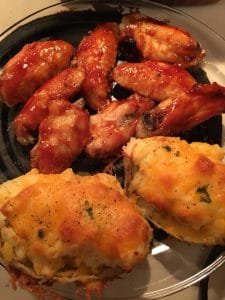 Video of How to Make Hot Sauce
How To Can Hot Sauce For Shelf Stability